Looking for a Qualified Farsi Translator / Interpreter?
So the Last Stop Is Here.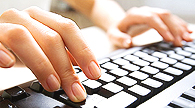 Trust us with our guaranteed capabilities
Persian or Farsi is the official language of Iran. The Iranian language or Farsi is different from Arabic though there are some common words in both languages. The focus of our business has been on delivering premium quality Farsi (Persian) translation and interpreting services for English, German (Deutsch), French and Arabic. Additionally, for years we have also been experiencing great achievements in other areas such as proofreading, editing, DTP, subtitling, etc.
"Panlingual" translation and interpretation agency can offer you a wide variety of interpreting and translating services in Iran and worldwide. Our bilingual interpreters and translators can meet your needs efficiently bearing in mind that your satisfaction (for whom they translate / interpret) must always be our overriding concern. We recognise the fact that we don't succeed if you don't.
Our services fall into the following categories:
u Interpreting (Farsi Interpreter)
We have at our disposal a group of professional experienced interpreters, who have not only covered many events including conferences, seminars and symposiums successfully, but also have been very helpful to the event managers for the better organization of the interpretation process before and during the events.
Our interpreters have also been assigned tasks of accompanying businessmen and trade delegations in one or multiple business meetings to interpret conversations taken place in the meetings wherever necessary both at home and abroad.
If you plan to visit Iran (or travel around the world) for business and need a Farsi interpreter and translator to attend to you wherever you go around in our country or around the world, we can offer a comprehensive and inexpensive solution. Time and again our interpreters have already fulfilled such errands.
Please notify us of the details of your need for an interpreter, for business meetings, events, touring fairs, etc, and we'll provide you with a free and absolutely unbinding quotation with our precisely calculated rates. Contact Farsi Interpreters
u Translation (Farsi Translator)
Translation of English, German, French and Arabic documents on a wide variety of subjects including medicine, automotive industry, is another service line in Panlingual. Following quality standards and ensuring fast turnaround, our linguists deliver stable and reliable services for the following language pairs:
1. From English to Farsi (Persian) and from Farsi (Persian) to English *
2. From German to Farsi and from Farsi to German
3. From French to Farsi and from Farsi to French
4. From Arabic to Farsi and from Farsi to Arabic
5. From Arabic to English and from English to Arabic
6. From Kurdish to English and from English to Kurdish
7. From Malay to English and from English to Malay
8. From Chinese to English and from English to Chinese
* Farsi, Persian and Iranian all refer to the same language.
Your translation order can be for texts from as short as a few words like an email up to as long as several thousand words such as a novel.
This range includes Business E-mails, Technical Manuals on Automotive, Machinery, Instruments and Devices; Healthcare, Electronic, Electric, Manufacturing, Engineering, Marketing, Financial/Banking, Legal, HR, Management, etc. We can also help you find a qualified business partner among Persian-speaking community easily.
u Free Consultation
A few members of our staff are particularly experienced in providing advice and tips on planning interpreting and translations projects. They can help you for free for as long as one single day to gain insight into how to arrange the interpreting function of your event.
However, if your project is too big and in need of several days or any longer duration of support, this would continue at a fee.
For instance, should you not know how to go about the simultaneous interpreting function of your upcoming event, or like to have your catalogue translated into 20 different languages, to begin with, email us your project details and one of our team members can definitely prove helpful with some guidelines, tips and advice. Contact a Free Consultant Linguist

Our simultaneous interpreters (Interprčte, Dolmetscher, Dolmetscherin) can serve your international conferences / events best. They work in "real time" and their job is really demanding requiring a high level of expertise and experience. We undertake full responsibility for simultaneous interpretation of your event(s).

The most popular type of interpreting is consecutive interpreting. A speaker delivers a few sentences and then pauses; the Consecutive Interpreter repeats what has just been said in the target language. As a simple example, phone interpreters fall into this category. Our telephone interpreters are available 24/7 to meet demands from various parts of the world within different time zones.

Sometimes you just need someone bilingual on hand who can help out with ad-hoc requirements during an event. Facilitating Interpreters are often hired to attend international corporate hospitality events and team building sessions. They are great assistance in making your clients and staff feel comfortable and can help avoid misunderstandings and consequent offer of apologies.